Sailing boat 42 feet
Racing boat GP42 original.
Refitted to cruiser in 2013, new deck, interiors and easier maneuver.
Diferent uses, racing, sailboat cruiser, training, charter, company events...
Ask for price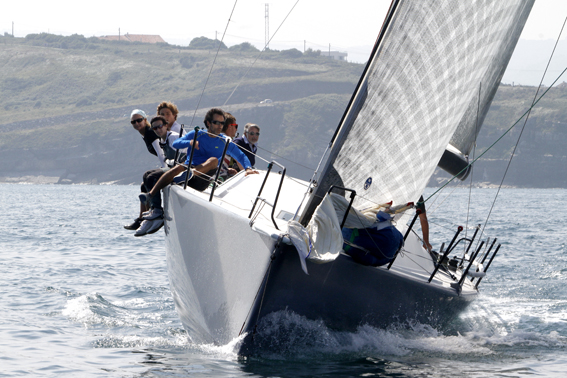 42 feet racing sailboat designed by Totalmar. Initially built as a GP42 class, it was later completely refurbished, changing the deck and interiors to make it more habitable. Part of the standing rigging, rudder and keel was also modified, gaining stability in the maneuver.
One of its main characteristics after the refit is the change of the deck maneuver, designed to be simpler and more practical, in such a way that the minimum number of necessary crew members is reduced, being able to even carry out regattas with 2 sailors. In addition, a large part of ropes and deck hardware have been hidden in safety by leaving a clearer deck and cockpit.
Both the hull and deck are constructed of carbon-epoxy infusion and the appendages have been optimized for shape and weight.
For more information send us an email or call us.
Name before refit:  GP42 Totalmar
Name after refit:  T42R
Model:   GP42
Year:  2007
Refit year:  2013
Material: All in carbon fiber
Construction process:  Infusion of carbono-epoxy
Length (LOA):  12,80 m.
Beam:  3,88 m.
Draft:  2,56 m.
Displacement:  4.757 kg.
Ballast:  2.350 kg.
Inner Ballast:  220 kg.
Mast and Boom: Carbon Southern Spars
Standing rigging:  Southern Spars
Ropes: custom, first brands, dyneema, spectra, dyneema soft shackles, etc…
Bowsprit: Custom made carbon fiber. Removable
Spinnaker Pole:  Carbon Southern Spars (optional with mast rail)
Winches:  6 Lewmar, diferent sizes
Pedestal:  1 Lewmar
Blocks: first brands Harken, Lewmar and Karver
Engine:  Lombardini 29 HP SD LDW1003 M – Sail Drive
Propeller:  Gori 2 blade folding "racing"
Tanks:  Fuel 100 li. – Water 2 x 25 li.
Berths number:  4
Bathroom: 1
Batteries:  2 AGM
Hydraulic pumps: 1 SPX Power Team P19L extra small 2,3 kgs. with 2 cylinders + Hydraulic Bolt Tensioner M30 with own pump for keel
Safety equipment: Category 3
Electronics:  B&G WTP2 with 1 license of Deckman
Screens: 2 on deck + 4 Jumbo 20/20 on mast
GPS: Yes, 2 (bow and stern)
VHF:  Yes, 2 (inner and deck)
Main Sail:  1  North Sails
Jibs:  3  North Sails
Spinakers:  3  North Sails
Staysails:  1 North Sails
Training Sails: 1 main sail, 1 jib and 1 sppinaker